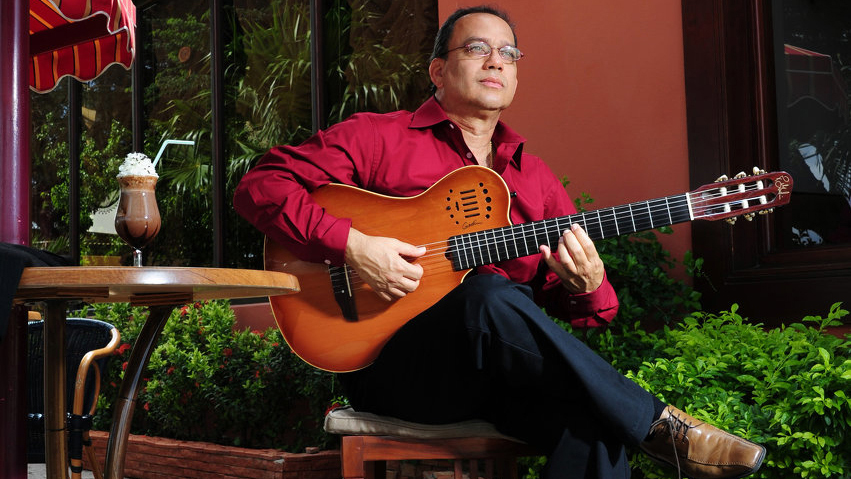 About the Artist
Ivan is a pioneer in using contemporary harmonic jazz concepts with Aruban/Antillean folklore music rhythms such as "danza", "tumba", "waltz" and "mazurka". His first "tumba-jazz" composition was "ARUBA" in 1988.
Ivan is multi-faceted and versatile: he masters a wide spectrum of guitar styles, contemporary and traditional jazz, Brazilian and Latin jazz, funk, blues, R&B and classical music.
Ivan distinguishes himself by having the rare ability to master the different techniques of the classical and the jazz guitar as required for each individual instrument, effortlessly changing from one guitar to another during performances.
His playing concept and his composition concept are characterized with intricate but refreshing melodic ideas with sophisticated jazz harmonies and rhythms
He has given a new dimension to the "danza" and "tumba" music styles by using the guitar, instead of the piano, to cover all the harmonic and rhythmic functions. That has become his trademark.
Ivan's goals are to develop and promote young artists and professional local artists and to continue to promote contemporary harmonic jazz concepts with Aruban/Antillean folklore music rhythms. Check out www.arubasounds.com, a platform to promote our local professional musicians.
Recording Artist
Ivan has produced five high quality CD's: 2 solo classical guitar CD's and three jazz CD's. The last production was Horizonte Nobo (2011), an international collaboration with Grammy Award winning artists like Oscar Stagnaro, Alex Han, Alex Brown, Pernell Saturnino and top Aruban musicians like Serghio Jansen (his son), Reno Steba, Eddy Samson, Franklin Granadillo, Richard Holmond, Roy Croes, Gerald Martes, Jeremy Bonarriba. Check out "Discography" on this site. All his CD's include original compositions and are on sale online.
Performances and Concerts
Ivan performed in many jazz festivals and concerts in Aruba, the region, U.S.A and Latin America. In 2015 John Nugent, owner and producer of one of the largest jazz festivals in the world, the renown Rochester Jazz Festival (almost 200,000 visitors), stayed at the Divi Resort for vacation and fell in love with the music. Ivan's band included Grammy Award winning artists such as Oscar Stagnaro, Alex Brown, Pernell Saturnino, and top musicians like Alex Han, Serghio Jansen, Michael Bremo, and Leagh Gough-Cooper.
In other festivals, he has shared the stage with world renown bands such as Spyro Gyra, Dave Sanborn, Carlos Santana and many others.
As a classical guitarist, he performed with the Symphony of the Americas orchestra in the USA and Aruba and also with the Amsterdam Symphony Orchestra in Diligentia Theater in The Hague.
He performed many solo classical guitar concerts in the region, amongst others, as soloist in duo with Luis Quintero, Venezuelan prodigy. He performed as classical guitarist for Queen Beatrix (now Princess) of the Kingdom of the Netherlands and for Prince Willem Alexander (now King).
Ivan performed with Randal Corsen (Edison Award Winner -piano) in a Piano and Guitar Concert interpreting Classical Repertoire and music of famous Antillean and Aruban composers in Duet and Solo settings.
He has organized many concerts on-island with top musicians and plans to continue to promote local artists while forging collaboration with top international musicians.
Current performances
Currently Ivan performs as solo Classical Guitarist at the upscale Windows Restaurant, as Jazz Guitarist with his Trio at Mulligans and with his Quartet at the Divi Resorts. His Quartet consists of fine professional musicians like Franklin Granadillo, Richard Holmond and Roy Croes.
Publication
In 1998 Ivan published a book "Aruban Folkloric Music for the Classical Guitar" with six Aruban/Antillean folkloric music compositions arranged for the classical guitar. Arrangements were made by Ivan Jansen and Alphonso Boekhoudt.
Promoting local artists
One of Ivan's goals is to develop and promote young artists and professional local artists. As a music instructor for decades, he has taught classical and electric guitar at Scol di Musica Rufo Wever, developed methodology for classical and jazz guitar education and has prepared young students to qualify for conservatoriums in Holland and renown music schools in the U.S.
To promote our local artists on-island, Ivan has also started a company to represent these fine musicians and singers and contracts them for performances at hotels and other venues. He currently provides entertainment for the Ritz-Carlton Hotel, Renaissance Hotel, Divi Resorts, and for groups and events. Check out www.arubasounds.com for all the music genres provided and contact Ivan for any music entertainment needs you may have locally and internationally.
Education
In 1981, Ivan graduated Cum Laude from Berklee College of Music, Boston, U.S.A. in Music Performance. Prior to that (1979), he completed his classical studies for the Guitar from Academia Francisco Cristancho in Bogota, Colombia.